Success Stories Continued
Thor, as we call Hoss, is settling in well and even enjoying the snow. He has captured everyone's hearts and is happy that two of our three sons are in for Christmas. The third gets here tomorrow night.
Thor is so fast outside when he is darting around that we have yet to get a decent photo of him in the yard. But expect one soon. After a romp outside he is happy to settle by the fire with Pippi, his big sister! She seems to like having someone to boss around and play chasing with.
Lina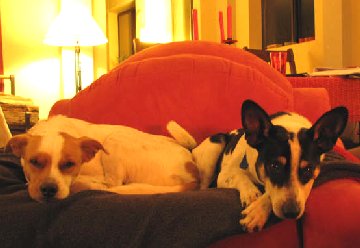 Several weeks ago my wife and I adopted P-Joe, a Rattie mix that had been hit by a car in Jacksonville and lost an eye.
To say this dog has stolen our hearts would be a understatement... We have had dogs for as long as we have been married (a long Time), and sometimes I think it is the dogs that keep us together.
In April my wifes sister was diagnosed with ALS. Over th months she has grown weaker and Joni has spent more time in Detroit.
We keep sayng P-Joe came for a reason. We have two dogs and a year and half ago we put down AJ our seventeen year old Yorkie Rat mix. You all know that one cannot replace a dog with another dog, and before we decided to take P-Joe we promised we would not compare P-Joe (now named Mr. Peabody ) with AJ. P-Joe has brought more smiles and laughter to our home over the holidays than we could have wished for. What's more, P-Joe is so much like AJ with his antics that it just brings back warm memories of a departed family member.
P-Joe was just as Ms Wood described him to be, well trained and anxious to please.
If you are considering a small dog rescue. Ratbone Rescues is the place to begin.
Rick and Joni Mansfield
Jacksonville, FL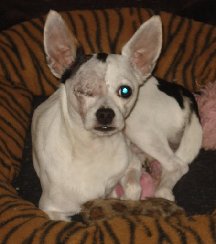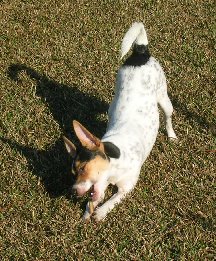 Dear Ratbone Rescues,
My name is Tara LaZier and my husband and I adopted little Zelda from your organization back in October of last year; we absolutely love her to pieces and I wanted to send a quick update and some photos to reassure you that she is in a wonderful, permanent home and we are taking great care of her. I am sure your organization often wonders what happens to such wonderful little creatures after they are placed.
In the last few months, Zelda has really blossomed, has become extremely vocal and has all sorts of funny idiosyncracies about her. She and our other Rat Terrier Ruby make us laugh every day.
My husband is in the military so we are in Florida right now for his work commitments; the dogs go every where with us... including the beach, where they act like they own the place! Enjoy the photos and if you have any questions or concerns, please don't hesitate to let us know. Thank you again for letting us adopt her; she has been a blessed addition to our family and I know she is really happy.
Gratefully,
Tara LaZier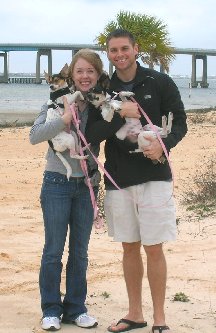 When we lost one of our Jack Russell's (she was bitten by a rattlesnake while on a hike), we decided our next dog would be a rescue dog - probably another Jack. When I did a search for a male Jack, up came a picture of Bojangles. He looked very much like our Cydney. I thought, why not check in to him. The ad didn't say where he was, so I figured if he was in California, then just maybe... Well, it turned out that he was right in our backyard.
We went through the process of applying to adopt and Bo was brought to our home to check us out. Bo had been through 2 homes already and was termed "difficult". But he fit right in with my husband and me, although he would pretty much have nothing to do with our 13-year old Jack Russel, Willie.
He had a few idiosyncracies, but with time most of those just kind of melted away as he grew to trust us. He's a sweet, funny little guy who makes us laugh at least a couple of times a day. Although he's not the running fool Cydney was, he's really taken to going for walks and hikes and especially has a great time communing with the squirrels that tuant him from the oaks around his yard. After being with us for nearly 2-1/2 years, he's even starting to "play" with Willie and has learned to chase his squeaky toy.
Marie Veerkamp
Coo, CA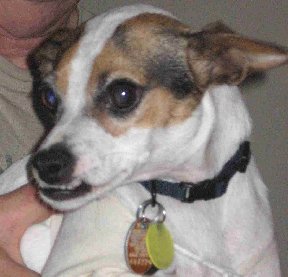 Hello, This is soooo long over due, but we wanted to send an update on Austin, who now likes to be called Jerry Lee. We adopted him January 27th 2007.
He is doing fantastic and is loving every minute of life! He is such an awesome playmate for his big brother Vegas, who he looks up to. And has brought out and previously undiscovered playfulness in his ten year old sister, Valerie. Unfortunatly, Jerry Lee had to have double eye surgery about three weeks ago to correct a cherry eye problem, but he came through it like a trooper.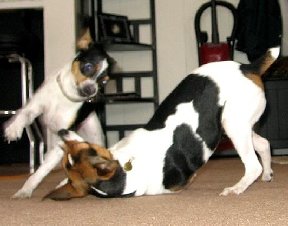 Recently we had a very sad family event, and decided to bring Jerry Lee with us. He did the best little job in the world of going around to every single person giving them love and kisses and doing silly things to make us all laugh. He was the life of the party!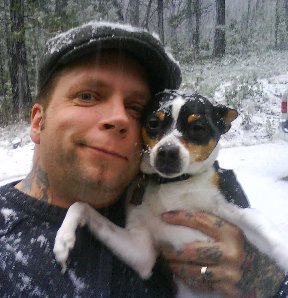 All the best to the Rat Bone Family!
Sincerely,
Rebekah & Andrew Beswick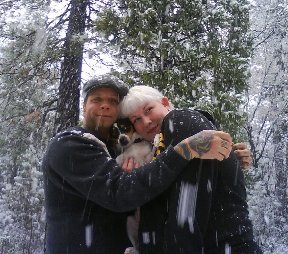 For Success Stories from
Rosey O'Rattey/Lark LaRue, Phoenix and Taffy
please click here
For Success Stories from
Wally Wagtail, Carly and Tybalt/Chewy
please click here
For Success Stories from
Susie, Frisco, Benny, Velvet Brown and Tucker Brown
please click here
For Success Stories from
Spanky/Sparky, Nut/Gigi and Evie
please click here