Success Stories Continued
Hello!
I adopted Susie back in October of 2004. She is my Pretty Princess Sweetheart! She is a spoiled little dog but you can't help but absolutely love her! She can make the worst day at work seem so insignificant with how happy she greets me when I come home! Her happiness when we go to doggie parks or walking is incredible. When I travel she travels. If not she spends the weekend with a doggie friend of hers so she can play and be distracted while I'm gone-absolutely no boarding house for her. I had to update you so that you knew how much of a blessing she was in adopting and how well she is doing. Here's an updated picture of her.
Helen Rogers-Rutherford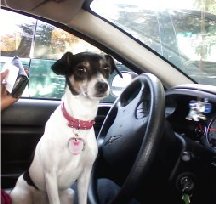 Frisco traveled a long road that carried him from his birthplace of Alabama to the big city of New York. However, he's just a little country boy at heart, and ended up finding his forever home in Mathews County, Virginia. He's the sweetest dog ever and the best cuddler I've ever met. He started out very timid and shy. He's now come out of his shell and loves to run around our back yard chasing bunnies, playing 'get me' with me. He's the perfect addition to our house.
the Schroeder Family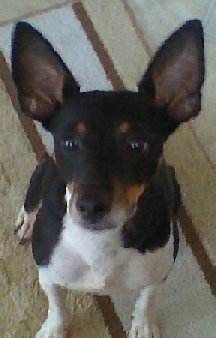 Dear Ratbone Rescues,
I cannot believe I have waited this long to send my thanks for Benny.
Benny came from RatBone via a Foster Home. He had been heartworm positive, and had all the hair gone from his rear end.
I had another Rat Terrier that I rescued from a local kill shelter in Dallas. When I first contacted Ratbone Rescues it was about a dog on the website. I was called after several days about an emergency placement... Benny Boy. Would I be interested in an older dog? Sure I said.
I cannot tell you what a joy Benny has been. I call him "Snuggle-Benny". He is so loving... to me of course. His previous adopted people said he was too needy; he just has separation anxiety from being abandoned by his first home. He is a comfort. A great friend. He can jump, he is quite the runner, loves his walks.
When the foster parents brought Benny up to meet Gladys we met half way and in my mother's back yard in Waco TX. They were coming from Austin and I from Dallas. We briefly chatted about how worried we were about the Terriers getting along.
Gladys was two and Benny five. This was five years ago. They were like peas and carrots INSTANTLY; they just started playing immediately. Like they had known each other for a long time. It was great. It cracks me up to this day to watch the two of them play. These are my first Rat Terriers but I am now a loyal fan. I spread the word whenever possible. I give your website out when asked about the breed or where I rescued my dogs.
There are so many joys: the hopping like a gazelle in a field, the fetching, the tug of war, the sensitivity, the "rat-runs", the pure love in the breed, the desire to please. They are just great dogs. Now, Benny is retired from mousing but Gladys is still an active mouser and rabbit chaser. I was the only one in my neighborhood that kept the top of her pansies last year - wonder why??
I cannot say enough about this wonderful breed of dog and the work you are doing. Thank you.
Kindest Regards
Nancy Malpass
Benny and Gladys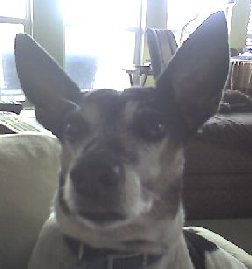 We adopted "Velvet Brown" in June of this year and absolutely love this adorable and affectionate little dog. We have however renamed her and she is now known as CoCo, which is due to her shiny brown coat and sweet disposition. She was warmly welcomed by her four legged brother and sister, Peppy and Snickers and, she most especially loves her new big brother Maze (seen in the photo). We take car trips to see Grandma and Grandpa and Grandma provides plenty of tasty dog cookies along with favorite toys.
We have read up on articles regarding Ratties and they are right on point when they wrote about toy hoarding and very high energy. CoCo loves the toy baskets and routinely takes all the toys and my shoes, piling them up on our bed or the couch. We have had company over for the weekend and their flip flops went missing however, we eventually found them in CoCo's house, which also contains her dog bed, favorite milk bone toys and blanket, so it gets a bit crowded at times!! CoCo's antics bring a smile to everyone's face!!!
The adoption experience for our family was wonderful and, we are just so happy to have CoCo as part of our family!!!
The Melchiore's
Tampa - Florida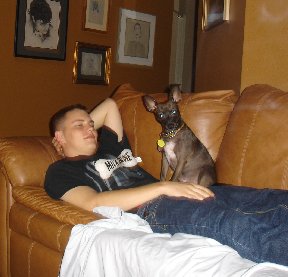 Hello.
My name is Maureen Powell and I was blessed enough to adopt Tucker Brown (he really adopted me!!) from Ratbone Rescues. He flew to his forever home here in NJ from Arkansas in October of 2000. After a long battle with pancreatic cancer he died on November 5th, 2008 at the tender age of 8 years old.
I feel compelled to write to the organization that brought this sweet soul into my family. He brought such joy and pure love to my life and it will never be the same without him. My heart is truly broken. I have lost loved ones in the past but this pain is nothing comparable, as crazy as that may sound. The small comfort I have is knowing he will be there to greet me at the Rainbow Bridge. I just wanted to thank you for bringing the sweetest boy with the sweetest eyes in to my heart, where forever he will stay.
Thank you,
Maureen Powell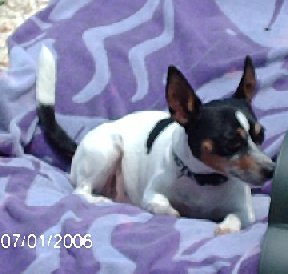 For Success Stories from
Rosey O'Rattey/Lark LaRue, Phoenix and Taffy
please click here
For Success Stories from
Wally Wagtail, Carly and Tybalt/Chewy
please click here
For Success Stories from
Hoss/Thor, P-Joe, Zelda, Bojangles and Austin/Jerry Lee
please click here
For Success Stories from
Spanky/Sparky, Nut/Gigi and Evie
please click here