Gumby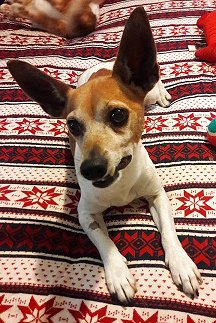 2017-05-14
Adopted!
CongRATs to the Benes family!
Location: Florida
Seniors for Seniors Candidate
Gumby Ratbone is a SPECIAL boy! We were alerted to his plight when a video of him trembling in a cage at a high kill shelter in South Florida was posted. The shelter said his medical was normal - they did not list anything about his rotten and broken teeth. Poor Gumby had MAJOR periodontal disease, and many of his teeth were already missing. He had to have TEN teeth removed, but he pulled thru like nothing happened. Gumby is a very affectionate boy. He is fine with cats and dogs of small to medium size. He isn't happy around larger dogs, and will growl at them - but he responds quickly when he is asked to behave. Gumby is crate trained and enjoys snuggling in bed with his fostermom and some of the other critters. He is GREAT on a leash, and loves to just chill out and watch DVDs and TV shows. Any applicants should understand and accept that Gumby should have regular check ups, and may very likely need yearly dental cleanings, to take care of the remaining teeth that he has. Gumby is about 7 years old and weighs 15 pounds. He loves lamb & rice dry food and he likes "stew"type canned food. Gumby is ready for a great home, one who will adore him and really take care of this special boy. More pictures of Gumby Ratbone can be found here in his album.