Tips on Introducing a New Dog to Your "Pack" (Part 2)
Managing the New Dog in Your Home
Pick up all pet toys, food bowls, beds and the like before you bring the new dog into the house to prevent any tiffs over prized possessions. You can return the resident dog's toys in a few weeks, and introduce some new toys at this time. In the meantime, give the dogs toys only when they are in separate areas or their crates. When you bring the new dog home, put your current pets in a separate area of your home; then, walk the new dog around your home on a leash to show him where he will sleep and eat, where the other pets sleep and eat, etc.
Establish boundaries in your home by using baby gates and closing off rooms and areas while all the pets acclimate to the new situation. This way they can see and get used to one another. Allow the resident dog to roam the house, while confining the new dog behind a barrier at first.
Keep the resident dog's areas for sleeping and eating separate so he doesn't feel his territory is being threatened. Feed the dogs in separate areas, and pick up their food bowls after feeding time is done. Keep the dogs confined in separate areas of your home any time you are away or can't watch them.
While your dogs may enjoy each other as playmates, supervise their play to prevent them from getting over excited, which can lead to injury of one or both dogs.
Interrupt their play if one dog begins to bully or growl at the other, and separate them for a few minutes. Praise them when they are playing well together.
Remember to devote plenty of time to each dog individually for both training and play. If one dog is much older or less energetic than the other, be sure you give him time and space to himself so he can rest and feel secure.
Puppies to Adult Dogs
Not all resident dogs will welcome a new puppy into the home. Puppies are notorious for looking for attention from adult dogs (and everyone else), and so must be supervised when they are with other animals. Very young pups may not pick up on an adult dog's body language that says he's had enough playing. A well-socialized adult dog may growl to tell the pup to back off, which is appropriate behavior that helps the puppy learn boundaries.
However, an adult dog with poor social skills may present a danger to the puppy, as he may only know to bite rather than growl. Thus, do not leave the dog and puppy alone together.
Respect the adult dog's need for puppy-free quiet time, and be sure to spend one-on-one time with him as well.
Handle the puppy-to-dog introduction as you would between dogs. Keep both animals leashed, carefully watch their body language, allow brief sniffs, and offer praise when they behave well.
Know When to Get Help
People keep household pets because they enjoy their antics and companionship. However, if your dog doesn't get along with other dogs, this only creates tension and disharmony in your home. If you've tried all these tips already, and are still having trouble, please seek help before the problems become permanent.
Submitted by Terry Nickerson, Canine Behavior Therapist and owner of Bark Busters of Brevard. You can reach Terry at 1-977-500-BARK or visit her company's website at www.Barkbusters.com.

I'm writing Eddie's column this month because I have claimed his newest toy – the Stinger Flinger "High Viz" toy made by Romp (formerly Stellar Pet). Did you know that dogs can only see two colors in the spectrum?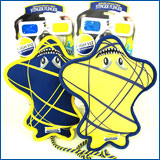 The people at Romp considered our ability to see only yellow and blue when designing this new line of toy. After much research and technology the company developed a line where canines can easily recognize their toys through the use of these two colors and contrasting patterns. While there's a good assortment of shapes and sizes available in this line, we went with the medium sting ray shape to honor our local professional baseball team.
The Stinger Flinger has survived my attempts, so far, to destuff it. It is definitely tougher than it looks. It's not too big so it's not scary or hard to grab and run with it in mu mouth. It also has a great tail for playing tug and the weight distribution and size is perfect for humans to toss. I like to put the toy between my papa's feet and then use the tail for pulling it back out.
My mama likes it because she says it is not too expensive and that it will also float in water (the entire line does). I believe that secretly she also likes the special glasses that come with the toy which allows the human eye to see the world the same way we do.

Ratbone Leaks

It's that time of year again - time to make the Holidays happy for our rescued Ratties, waiting for adoption in Ratbone foster homes!
Be a secret Santa! To sign up, just send a brief email to: RatboneSanta@yahoo.com, and the Head Elf will assign you a Rattie to shop for - or you can choose a dog from the Available Dogs on our website and let the Head Elf know. Ratties just love to get Presents!
REHOMED! The Ratbone Rescues 2011 Holiday Quilt has found it's new home. It will be residing in Portland, Oregon with Vanessa Petry and her family, including Rat Terriers Charlie and Kali. They say that Oregon isn't as cold as one might expect, something about ocean currents, but I bet Vanessa will get plenty of good use out of her new quilt. This is what Vanessa had to say about her prize.
"I just received the Rat Terrier Quilt today. I absolutely love it. Thank you so much, you all did amazing work. This will be a treasure in my family for years. I can't thank you enough. This is the most special thing I could ever hope to own :). I am one lucky dog! My 2 rat terriers look like several of the dogs on the quilt. Warmly, Vanessa Petry"
Thank you so much to all who made blocks for the quilt and to all who donated to Ratbone during the Holiday Quilt giveaway. The funds you donated will help us pay for needed veterinary services for more Rat Terriers. Congratulations to you, Vanessa!