Naked on the Plains
It is true, nudity has come to the rural Kansas countryside. A striking couple has recently been seen on the sidewalks of Norton, drawing a lot of attention wherever they go. Oliver (Ollie) and Hadassah (Dassi) are the first American Hairless Terriers in this small western Kansas town, in fact they are the first hairless dogs of any breed here, so people are noticing them when they are out and about. As a first time hairless "mom", I'm finding it has some distinct challenges as well as rewards.

The American Hairless Terrier's origins are unique in that the entire breed originated from a single hairless Rat Terrier female born in 1972. It was 10 years before she produced a litter of hairless pups and the breed grew from there. Because of it's background, the AHT is very similar to the Rat Terrier and the coated AHT is almost indistinguishable from it's Rat Terrier cousin. Unlike normal coated dogs, AHTs have sweat glands and will get occasional pimples that go away on their own. Rashes due to grass allergies are not uncommon. Other allergies occur as well. Regular baths are a must, to keep their skin in condition. Because of their lack of hair, they need protection from the sun. Sunscreen or a shirt is needed during summer outside time and when cold weather comes, they require sweaters or "jammies" to keep them warm.
Ollie and Dassi were born in Arizona then a year ago they moved to Kansas with their owners. When the family had a second child, they decided they were not able to give the dogs the time they needed so they looked for rescue to take them. Ratbone got the call and being the closest foster home, I agreed to take them. Being within 300 miles, ground transport was workable and I found that this pair loves to travel in a car. Dassi requires close supervision as she will run up to strange cars, hoping to go for a ride.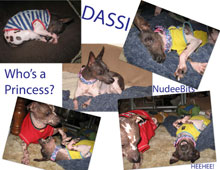 Dassi, who I call "NudeeBits", is a 7 pound grey and white girl who spins in circles when she is excited, which is often. She also gives hugs, putting her paws on either side of my neck and pressing her head against my face. She does NOT like being left alone and will cry like a little puppy, separated from it's mom when she can't be with me. For more than a week, she and Ollie slept in the library because they would cry through the night, keeping everyone else awake. She is learning to allow some space between herself and me but every 30 minutes or so she has to come "touch" me, just to reassure herself that I'm still here.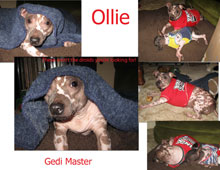 Ollie is a substantial (fat) boy at 19 pounds, a rather pink fella with grey/brown spots and a well established "farmer's tan", pasty chest and all. Ollie is less intense than Dassi, he really doesn't run anywhere. He does like going for walks but because of some skin issues, this is sometimes hard for him as his feet hurt to the point he is lame. He does not like to walk on grass, gravel or sand, preferring smooth concrete surfaces, so walking with Ollie can be slow. Ollie scratches a lot and since he has no hair, when he scratches it leaves scratch marks and abrasions on his skin. Ollie also has some history of ear infections and he will probably need more vet care to get on top of these issues before he goes to a new home.
This cute pair will soon be ready for adoption and they will make wonderful companions for someone, probably someone with allergies to dog hair. With or without hair, the Rat Terrier is a fascinating breed and we at Ratbone hope to continue saving as many as possible. Any support in our efforts, through volunteering or donating, is highly appreciated and will help us attain our goal.
***Please be sure to include an e-mail address, so that we can send you an acknowledgement***
Send check or money order to:
Ratbone Rescues
P.O. Box 3237
Seminole, FL 33775-3237