Physical vs. Mental Exercise for your Dog
Greetings!
I was speaking with a woman the other day about her dog. She said her dog just wouldn't settle down. She seemed to have an endless supply of energy even after running around all day. I asked if she was stimulating her dog's mind at all and she told me she didn't know.
This is an area where there is a parallel between dogs and people. If I have a mentally stimulating day where my brain really gets a workout I'm usually really tired and ready to just veg out, but if I don't have any mental stimulation I have much more energy at the end of the day. The same holds true with Rover.
Have you noticed that a physical workout energizes you? The physical conditioning builds more stamina. It's the same with dogs. There is a point where the exercise will tire them, but it takes a lot! Dogs can run and run for hours and still be ready for more, but ten to fifteen minutes of making them concentrate and THINK is exhausting and they'll be ready for a nap. Just as the physical exercise will give us and our dogs physical stamina, exercising the brain will build mental stamina and we want Rover thinking and concentrating don't we?
So, how can we exercise Rover's brain? Obedience training is one great way. Making Rover sit and stay, correcting his mistakes and praising him for the right behavior is a great way of stimulating his brain. He needs to think about what he's doing and he needs to concentrate. He doesn't want a correction. He wants to be praised, so he has to think about what he's doing.
A very slow walk making sure he is right next to you on a loose leash is another brain stimulating exercise. The slower you walk the more Rover has to think about what he's doing. We've seen, over and over again, very high energy dogs crash as soon as they come back from a very structured five to ten minute walk. A "power walk" will give them more energy, just as it does us.
Puzzles are great way to mentally stimulate Rover. Take one of his favorite treats, let him sniff it and then hide it and let him try to find it or tie it inside an old towel and make him figure out how to get it out. Buster Cubes are also great puzzles for dogs.
Scatter feeding is another great mental game. Rover will have to search for his supper. This is also a great idea if he has a tendency to wolf down his food. We've never met a dog who didn't love this game.
The more we exercise Rover's brain, the happier and calmer he'll be. He does need physical exercise, just as we do, but he also needs mental stimulation. Dogs who are bored are more likely get into trouble.
If Rover is digging or chewing inappropriate items or if he's running all over the house out of control, look at the mental side of the equation. A mentally stimulated dog is a tired dog and a tired dog is a calm dog. A calm dog is a happy dog and we all know about happy dogs; don't we?
Submitted by Terry Nickerson, Canine Behavior Therapist and owner of Bark Busters of Brevard. You can reach Terry at 1-977-500-BARK or visit her company's website at www.Barkbusters.com.
Ratbone Leaks
-12"x12" piece of blue and white, wispy iridized glass, $8
-Uroboros leaves & branches glass pack, $100
-20" Classic lamp base, $150
-One of a kind, handmade stained glass lamp, priceless.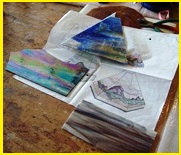 Heads up! We have something really special coming in the next few months. One of our members has started designing a special lamp which will be awarded to one lucky supporter of Ratbone Rescues. This will be the second Rat Terrier themed lamp designed and constructed by Susan Cadell, for Ratbone Rescues.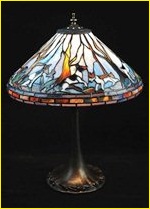 The first lamp, pictured here, was a big hit and a beautiful work of art. We expect the second one to be just as lovely. Be sure to watch for future RatboneLeaks where we will update you on the progress of the lamp construction and let you know when it is ready to look for a new home. You don't want to miss this one.