Has Your Home Gone To The Dogs?
I work with a number of rescue groups and organizations, and some of my clients have two or more dogs. Sometimes people want help with a specific dog with behavioral issues. Many of the rescue people and some of my clients have large packs and due to the number of dogs, problems can seem overwhelming. Things can get out of hand quickly. Approaching the issues from a pack structure standpoint makes it easier to get things under control.
Dogs are pack animals. We hear that a lot but what does it really mean? It means there is a social hierarchy, based on dominance. The more dominant the dog, the higher it is in the pack structure. And, the more it "leads" the pack. Leading a pack is both literal and figurative. A pack leader literally will be in front. The pack leader will also make the rules for the pack, such as who is allowed where, who gets what, when they get it, etc. The rest of the pack follows and obeys the leader's rules.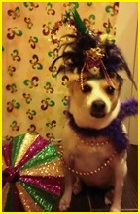 How can you tell who is the leader or most dominant in a pack? Observe the interactions. Who goes first through doorways going in and out of the house or even rooms in the house? Who picks the best spots to lie down? Who do the other dogs give a wide berth to? Who corrects the other dogs, but is never corrected by them? Who takes toys or other things away from the other dogs? Who makes the other dogs give way when she comes through? These actions will tell you who is leading the pack, and yes, the leader is usually female.
If you don't have this dog's respect and trust, then the rest of the pack may not respect you either. If you want to get a pack under control quickly and easily start by working with the pack leader. Once you gain the leadership from this dog the rest will usually be easier because they will take their cues from the one they already respect. The goal of keeping dogs in their homes and reducing the incidence of abuse, abandonment, re-housing and euthanasia, because of behavior, is a big part of why I do what I do. My dog pack is all rescues, and I often have a foster dog or two. I have the same goals as you; Happy Dogs = Happy Families
Submitted by Terry Nickerson, Canine Behavior Therapist and owner of Bark Busters of Brevard. You can reach Terry at 1-977-500-BARK or visit her company's website at www.Barkbusters.com.

Ratbone Leaks
Easter is right around the corner and we're all excited about the arrival of the Easter Bunny. Are you? Our foster-Ratties sure are!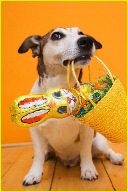 We would like to announce our First Annual SomeBunny Loves You event. This program is very similar to our Secret Santa in December, except no lists. You don't have to spend a lot - just enough for a cute toy or a tasty treat. Oh, but no chocolate bunnies! :-)
To participate simply email our Bunny Helper at RBRBunny@ratbonerescues.com and tell her which Rattie you would like to send your gift to - or we can select a recipient for you.
Our foster-Ratties are looking forward to Easter morning!
The Barker Crew